6 riders from FinKraft Junior Cycling Team made the trip across the pond to Belgium for the "Kerstperiode" or Christmas block. A two-week action-packed race block.
A race every other day. Race, rinse, and repeat. All the famous races and courses you have watched on TV for years.
AJ August and David Thompson are with the USA National Team and Ben Stokes, Finley Aspholm, and Haylee Johnson are with EuroCrossAcademy. Dillon is the privateer and is supported by his family and Cyclocross Custom. Separate programs, but all at the same place and all together in several races.
The first race on the schedule was Exact Zilvermeercross Mol. David and Dillon started their block here. A great classic sand race and venue around a Belgium resort. The location for Masters CX World-championships many times in the past.
Lot's of running and tricky sand to navigate, definitely diving into the deep end to start off the block for our two boys. David P10 and Dillon P43.
Next up was Gavere (non-World Cup for juniors). Super muddy and classic tricky, rutted descents.
Dillon was the only rider who took part in this race from our team. Quite the contrast from Mol and this was true Belgium mud. Dillon P30.
Superprestige Heusden-Zolder, the iconic course around the motorsport race track, is again very different from any other. Fast, somewhat dry, and sandy. Now we have AJ and David with the US National Team and Dillon with Cyclocross Custom. AJ crashes in the first turn but comes back to finish 5th. David has a clean race and also finishes in the top 10, P8. Dillon P39, a solid race for our team.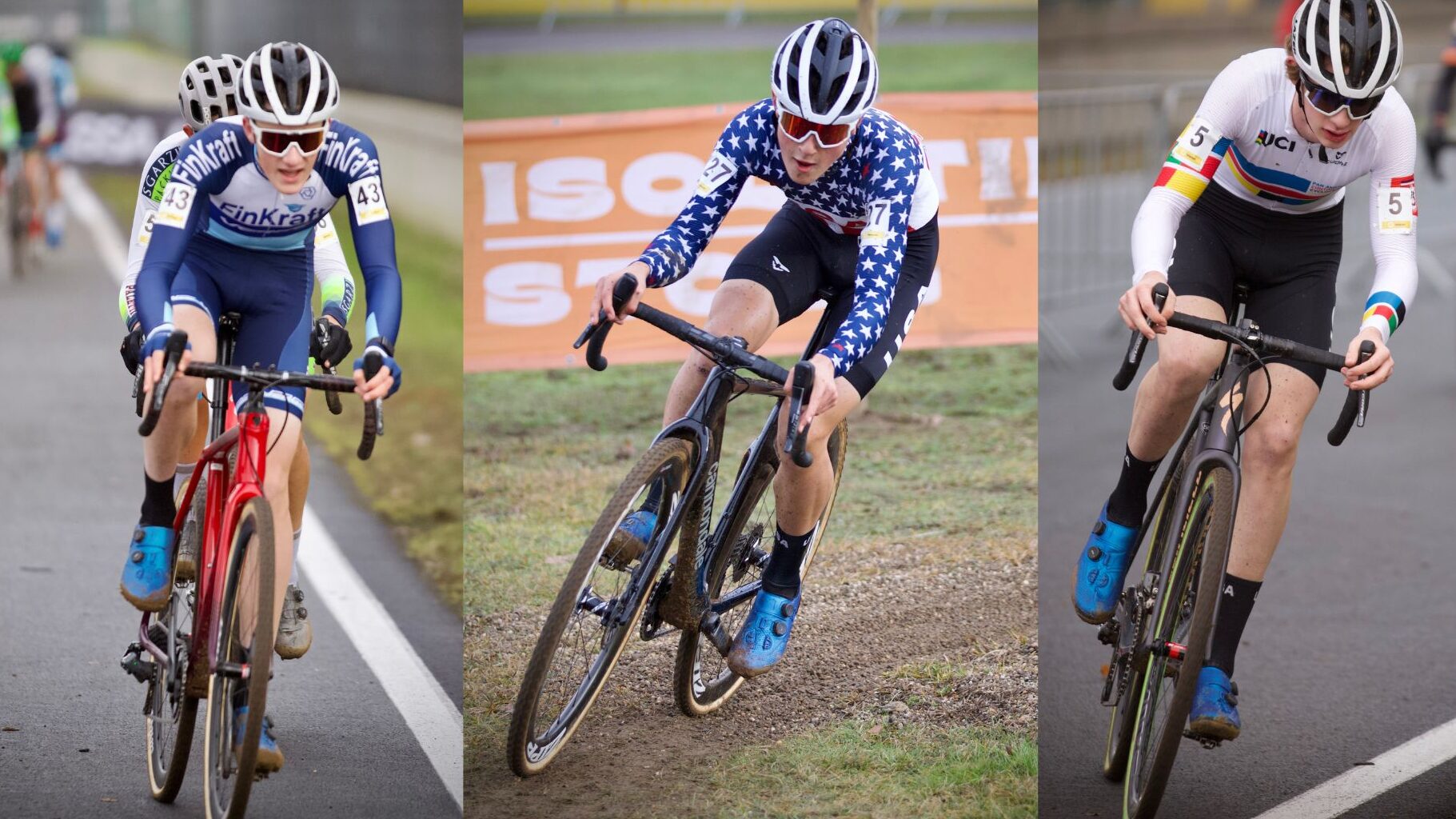 2 days later, Diegem. A special night race and an incredible atmosphere. 20,000 spectators with the race course snaking through streets and grassy/muddy areas in the town of Diegem. Ben has a great start and a very good race just having arrived in Belgium the day before. P18 in a very stacked junior men's race.
Finley and Haylee lined up with the elites. What an incredible experience to race with all their idols. They are moving smoothly through the chaos and big smiles finishing without any problems. Haylee P54 and Finley P74.
One of the most unique races they will ever do.
We have a day between races, so recovery is key. Ride, organize, clean, fix, and prepare for the next battle. The magical forest of Lichtaart is near Vorselaar so we always find a way to go through it on our recovery rides.
Loenhout is next for the boys, a legendary course behind the town on a muddy field. A few ditches and several man-made dirt hills, and a lot of transitions off and on the bike with some longer runs. AJ is out due to a stomach bug and not taking the start today. Big crash at the start of the junior men's race. Ben, unfortunately, went down hard and could not continue. David escaped the crash and after a very strong race on his part he finished P7. Ben had to get a few stitches and some medical attention, but luckily was ok after all.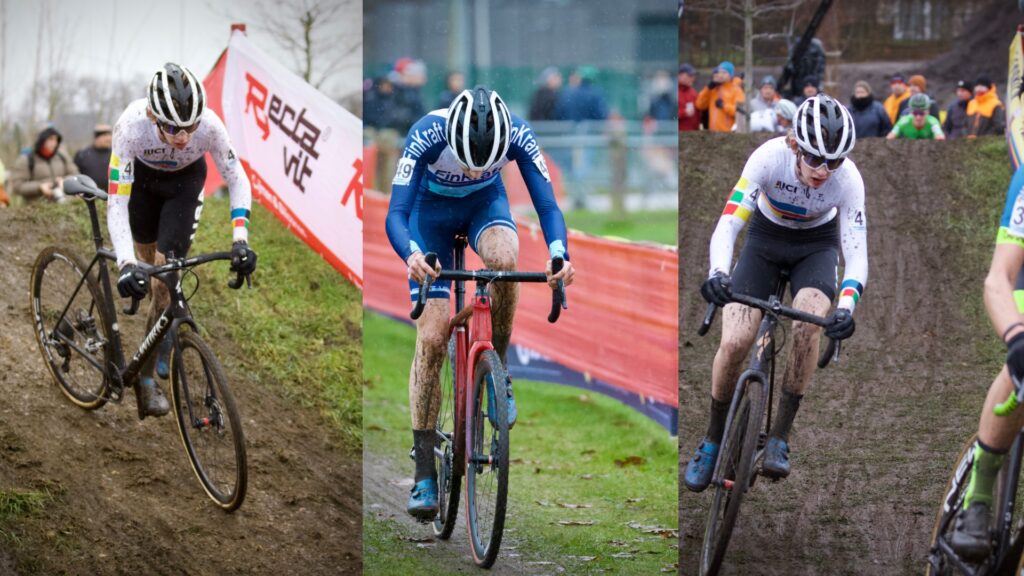 The girls took part in a National race in Kerniel Borgloon.
Great course and a more low-key type of venue and race. Still, a very good experience to see a different level of racing. If the girls had raced in Loenhout they would have once again, raced with the elites. Finley was 10th and Haylee 11th. They even won some money, 7 euros each.
Two muddy races so a lot of work was required to keep things running smoothly for the mechanics and riders with their equipment, both during the races and after, to get ready for Sven Nys GP, Baal.
Baal is always the first CX race of the year on New Year's Day and a special race for any CX rider. That means an early wake-up and drive to the Baalenberg. Very little time to prepare due to a 9:30 am start for the boys, so really only time to do two laps as a pre-ride and then a few minutes on the trainers before heading to the start line. Parking is sometimes difficult and far away, especially at this race, and still dark at 8:30 am.
AJ has unfortunately not recovered fully yet from his stomach bug, so still not racing today. David, Ben, and Dillon are on the start line. Ben has done this race before, so slightly more familiar with the course and venue. Not as muddy as some of the previous years and minor changes in the course. Hilly and somewhat technical and zero grass, since a permanent course at the Sven Nys Cycling Center.
Close battle for the podium and David is not far off. Finished P6, Ben P15, and Dillon P39.
The girls raced right after the boys, Haylee P19 and Finley P26. Back to Vorselaar by 1:00 pm to recover and watch the elite races on TV, which is a very cool thing especially since they had just raced on the same exact course a few hours ago.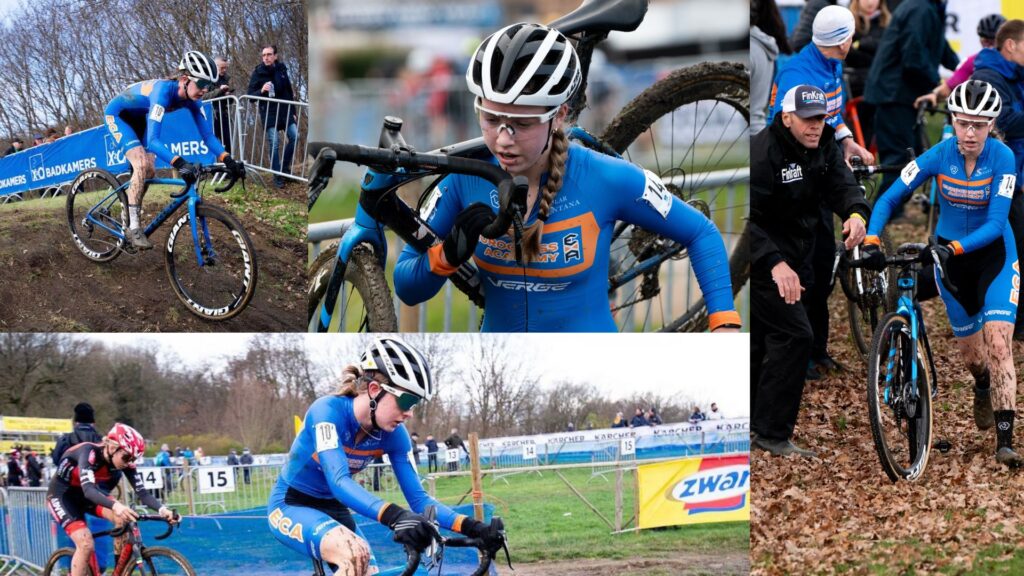 Only one-day recovery again and Herentals up next. Vorselaar is about 5K from the race so we ride over on Monday to check things out. Wout had the same idea since he lives in Herentals, even closer to the venue. Erwin Vervecken is a big part of these races and courses run by Galazo. Erwin also lives in Herentals as well.
A Crazy "ski hill" long, steep run-up, then straight down, and then a switchback climb back up and down a steep switchback descent. That is the main feature and definitely a decisive part of the course.
Dillon and Haylee are racing and both have a great race. A few really muddy spots and once again, more running. Haylee P19 and Dillon P30.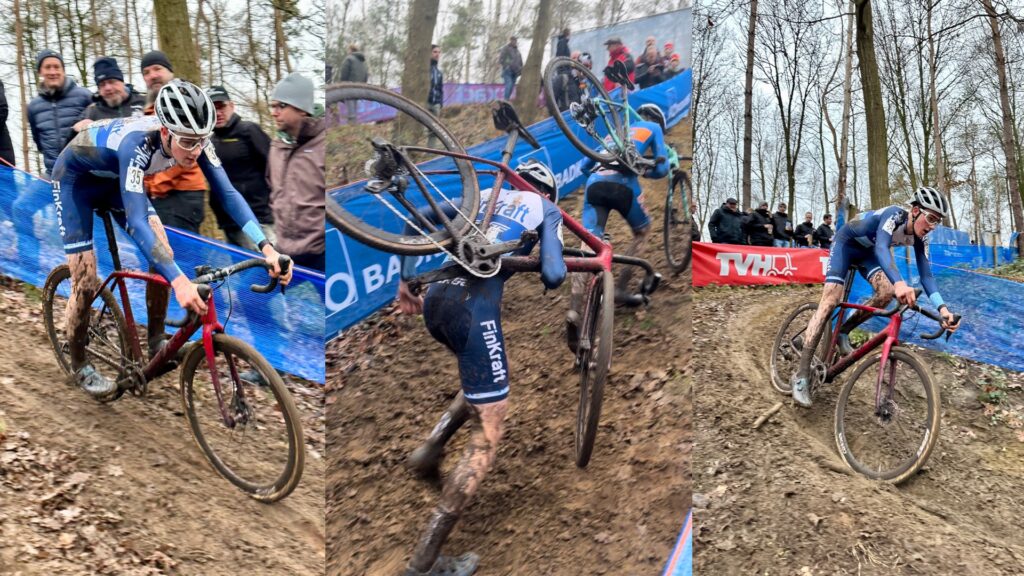 Next up, Koksjide. A little more logistics than Herentals. 2.5 hour drive and we planned on going the day before to be able to see the course and also to not have to drive in the morning.
This is one of the most incredible and amazing cyclocross courses in the world. Duinencross is the name and it sure lives up to that. Sand, soft sand, and incredible amounts of sand. It's at an old airbase, still active, and has a lot of history in the area.
The sand sections are long, technical, and very difficult, but the more we pre-ride, the better we get at the sections. One of the best-balanced layouts of a course.
The boys race at 11:00 am. All 4 are in the mix. AJ at one point in 2nd, but makes a few mistakes in the closing laps and David makes a big charge on the last 1/2 lap all the way to the podium. What a race. David P3, AJ P5, Ben P26, and Dillon P33.
Finley races with the elites again and all the big hitters are here. She finishes P55. Only 21 women make it on the lead lap, which tells you the level of difficulty.
An incredible experience and another sand skills session/race in the books.
Gullegem next on Saturday and back to the traditional Belgium mud. This is the last race in the block for Haylee and it all comes together when she takes the 3rd step on the podium after a steady progression in the race and took that opportunity on the last 1/2 lap, just like David in Koksjide.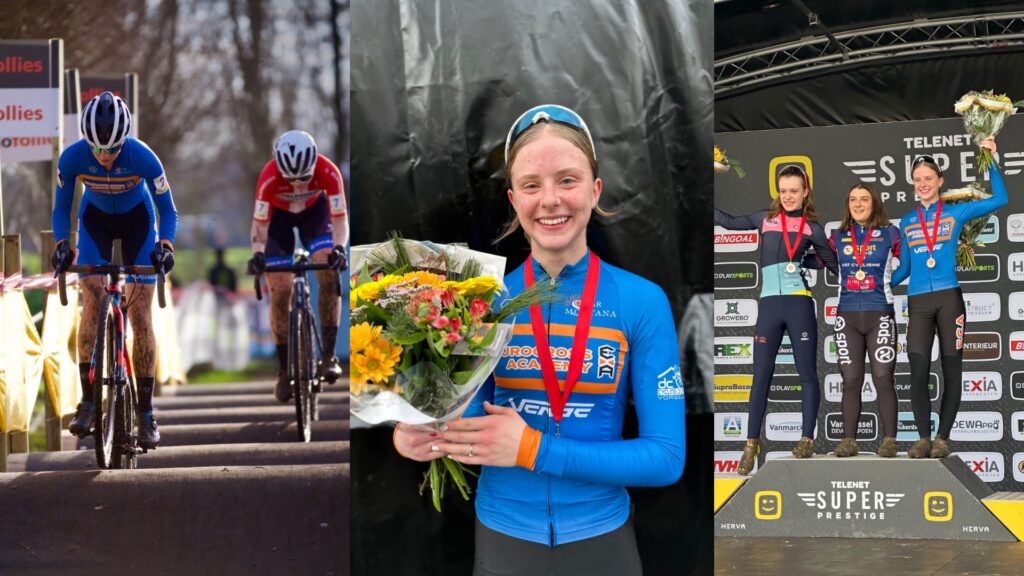 This was also Dillon's final race in Belgium. Number 8 in 16 days. What an incredible achievement and accomplishment. A learning experience that will pay huge dividends in the years to come. P28 at the end. A very nice finish to a very big season for Dillon.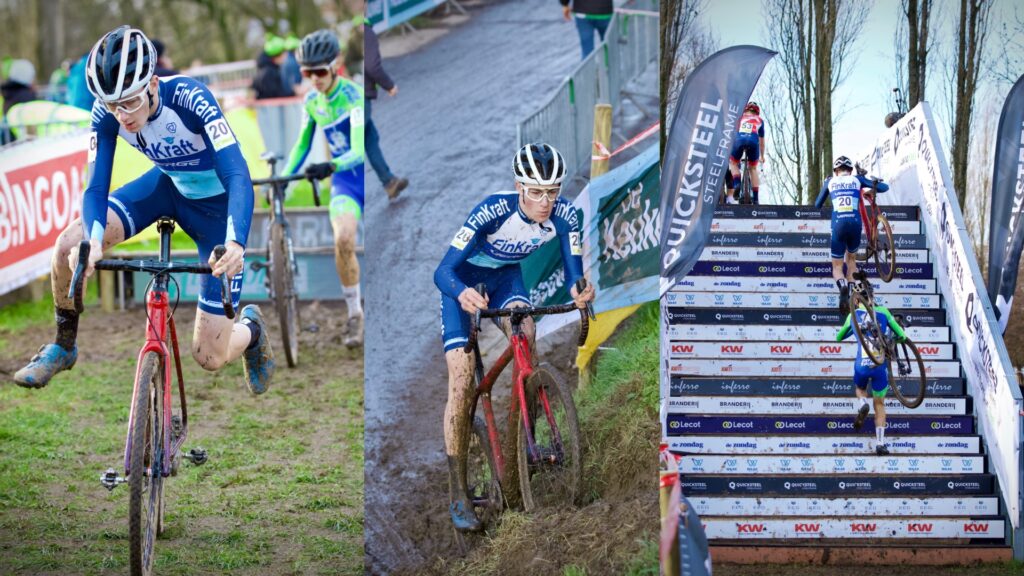 One race left. Zonhoven, UCI Wold Cup.
Another course like no other. The infamous sand pit "De Kuil" preride/training on Saturday for the 4 of our riders selected to ride this World Cup.
Not the sand like in Koksjide. It is heavy and has 2 very steep, technical downhills into the bowl. The famous long sand run-up has been replaced with an extremely difficult off-camber downhill. 50/50 chance that you can ride this clean and not crash or go over the handlebars.
On race day, AJ crashes during pre-ride and is unable to start. Very unfortunate and valuable World Cup points will not be his today. David has a 2nd-row start and Ben 4th row. A very critical first lap with these technical sand sections early in the race.
David moves into top 15 after lap 1 and then pretty much stays there and finishes P14. Solid performance on a very technical track. His best World Cup result to date. Ben P29. Probably the most technical race they will do, so to be able to experience all these incredible courses is priceless. Sand is not something you get good at overnight; practice, practice, practice. This was the first time and next year we are already one step ahead.
Finley lines up with the junior women and handled the course very well technically, P33 in her 3rd World Cup this season.
That's a wrap for our Kerstperiode and now time to pack our bikes and get ready for our Monday morning flight back to the US. Two bikes, 5 sets of wheels and race gear, etc. Also a skill and experience to be able to travel and move this kind of equipment relatively stress-free.
When it's this busy and racing almost every other day, training/recovering on the days in between races, time really flies. I am incredibly proud of all of our FinKraft riders who battled through this racing block in Belgium, something you can not do anywhere else in the world if you are a cyclocross rider.
A small break and then onto the preparations for the World Championships.