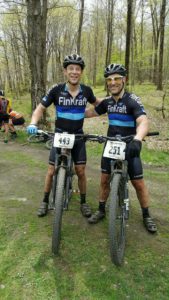 Craig Rotile is having some great battles in the H2H MTB series again this year. Craig is racing the Cat 2 50+ and was the winner of that series last year with consistent placing in every race. This passed week he managed to place 2nd in WayWayanda State Park on a very technical race course. With his 2 fourth places in the Ringwood and Allamuchy races and a 9th in the very first race in Medford earlier this spring Craig is now a solid 2nd in the series with several races still to come .
Lance Law also had a great race this passed weekend  until a flat tire derailed a podium spot in the Cat 2 40+ group.
More updates from our FinKraft Off Road Team to follow this spring and summer.